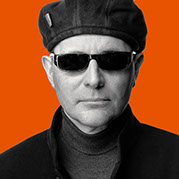 Thom Sandberg is always searching for a better way. This led him to his obsessive involvement with computer design from its inception to its use in advertising and design. Today he is acknowledged as one of the leaders in the field.
Thom's interest in advertising started at sixteen, when he created his first direct mail campaign to find a job in advertising. By sending out his rather humble resume to all advertising agencies in the yellow pages "A" through"M" (the amount of postage his allowance would cover), he soon had a job at Batton, Barton, Durstine and Osborne. Sandberg stayed at BBDO for six years while finishing college. Satisfying a severe travel itch, Sandberg took off for several years and worked abroad for agencies in London, Istanbul and Tokyo. To further his travel experience he crewed on cargo ships, packed fish in Venice and sold blue jeans on the black market in Tehran.
Upon his return, Sandberg worked his way up through several Twin Cities agencies including stints at Carmichael-Lynch and at D'arcy, MacManus & Masius as associate creative director. Sandberg worked solo for several years before founding the Kenyon Consortium in 1984. 20 years later, Sandberg sold Kenyon to Fallon Worldwide (and several years later reacquired it).
Sandberg is the holder of five patents (four of them useless).
Sandberg and his wife, Martha - a wardrobe stylist for television commercials - live in Minneapolis with their 22 year old daughter, Alta Lucia.