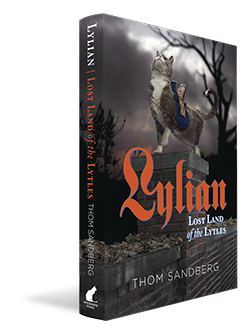 A new Young Adult novel by first time author,
Thom Sandberg, based on the true adventures of Minneapolis' famed Lake Harriet elf, mr. little guy.
When 13-year-old Lucia Boyd sells an invention, she completes the deal on the mysterious island nation, Lylian. Isolated in the North Atlantic Ocean Lylian has minimal contact with the rest of the world, largely because it is the home to a race of 10-inch-tall human-like creatures called Lytles.
What starts off as an exotic junket soon becomes a battle of life and death as Lucia ends up hostage to a group of mercenaries intent on overthrowing the island and destroying the entire Lytle population.
And only the Lytles can save her.
"It's a wonderful ride. I loved Lucia and the very human Lytles. The book is a combination of Gulliver's Travels and an Errol Flynn swashbuckler."
David Housewright, Edgar Award-winning author of Unidentified Woman #15
"For years, when I would take the Lake Harriet walk with my daughter, she would stop to kneel and peer into the magical elf house at the foot of a tree known to many grateful children and their parents. Now my daughter is grown up and a devoted reader of fantasy, and she and I and many other children and parents can enjoy Lylian: Lost Land of the Lytles by Thom Sandberg, the gifted creator of the elf house who has fashioned a vivid novel that extends his elfin magic into a world of intrigue, courage and personal awakening."
Lawrence Sutin, Minnesota Book Award winner
BUY THE BOOK
$14.99 plus shipping & handling.